Signing in - troubleshooting
How does the sign-in process work?

The purpose of the sign-in process is to obtain a license file for your velogicfit application. When you run a velogicfit application, it checks your computer for a license file to ensure that you're a valid user of that application.

It will also try to sign into Velogic servers, to obtain a fresh license file. It can sign in automatically by continuing your previous session, or it can prompt you to enter a username and password.

If it can sign in automatically from your previous login, and can get a fresh license file, you won't even see the sign-in window - you can just start using the application.

If it can't sign in automatically, you'll be asked for a username and password.

Even if you can't sign in (e.g. because you're travelling somewhere without an internet connection), you'll see an option to "Use Offline" for up to 5 days after the last time you signed in and obtained a new license.
The remainder of this document deals with sign-in troubleshooting scenarios.
Problem: You can't remember your password.

Problem: You get "Invalid username or password" message when you try to sign in.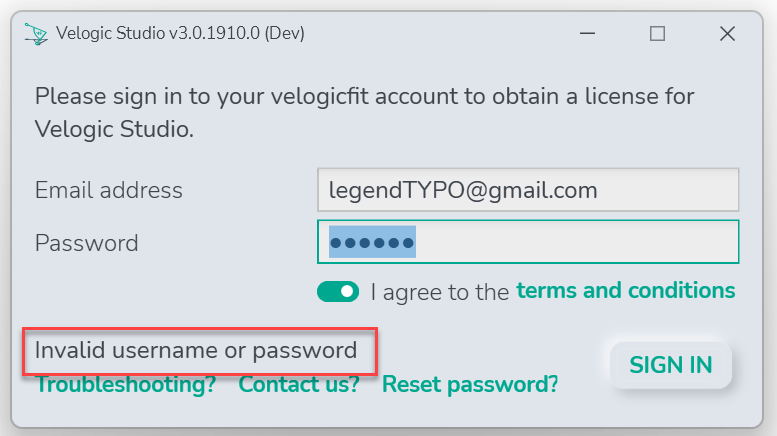 If you see this message on the sign-in window, most likely you have made a typo in either your username or password.
If you think that they're definitely correct, but not being accepted: try signing in to the velogicfit website app.velogicfit.com using the same username and password. If you can't sign in to the website either, you may need to reset your password.

If you can sign in successfully from our website, but not from your Velogic Studio or 3D Aero application - you may need to allow Velogic Studio or 3D Aero through your firewall. If you don't know how to do that, please get in touch with us and we'll help.

Problem: You get "Could not obtain a valid license" message
This means that you were able to sign in, but our servers couldn't create a valid license file for your application - most likely because you don't have a valid subscription.
You can check your subscription status via
our website
, or get in touch with us.
Problem: You're going to be offline for a few days

This is not actually a problem. Velogic Studio is designed to allow you to work offline (without a new license check) for up to 5 days.

While you still have internet access, run Velogic Studio and sign in as normal.

Go offline and run Velogic Studio again. You should see a "Use Offline" option at the bottom of the sign-in window:



Click "Use offline", and you should be able to use Velogic Studio as normal.
Related Articles

Webcams: Overview, FAQ, troubleshooting.

Velogic Studio can show a liveview of, and record video from, any webcams that you have attached to your computer. How to configure webcams Step 1 of Velogic Studio is the configuration step. There's a section in step 1 to help you configure your ...

Kinect camera troubleshooting guide

Our Velogic Studio and 3D Aero products utilize the Microsoft Kinect for Xbox One camera. If you're having trouble with the camera - e.g. disconnecting or freezing - the first step is to determine whether the problem lies in Velogic software (Velogic ...

ANT+ Overview & Troubleshooting

If you have a ANT+ USB device plugged into your computer, Velogic Studio can use it to communicate with ANT+ sensors close to your computer. What does ANT+ support look like in Velogic Studio? Step 1 of Velogic Studio is the configuration step. ...

Troubleshooting Velogic Studio

If you can't get any information at all from the Kinect, or the Kinect is disconnecting: check out our hardware compatibility guide and Kinect camera troubleshooting guide first. Once you're sure that the Kinect is working fine (i.e. the Kinect ...

The bike fit process

Step 1: Configuration and rider details After starting Velogic Studio (and optionally signing in, if you haven't signed in recently), you'll see Step 1: Step 1 is for you to get all setup prior to the fit session commencing.lThe client name, email ...