Velogic Studio can show a liveview of, and record video from, any webcams that you have attached to your computer.
Step 1 of Velogic Studio is the configuration step. There's a section in step 1 to help you configure your webcams.

When you click the "Add Webcam" button, a popup will appear allowing you to choose which webcam to add:

Click on the webcam you'd like to add, and you'll see a configuration card added for that webcam:

The configuration will show the live view from the webcam, and there are controls for you to:

Any webcam supported by Windows should work with Velogic Studio. The following cameras have been tested and known to work:

If you have experience with any other webcam models, good or bad, please let us know and we'll add to the list.

Q. My webcam needs to be further away from my PC - can I use an extension cable?

Most consumer webcams come with short USB cords. The Logitech C920 USB cord is around 1.4m long. If you're going to place this camera further that that from your computer's USB port, an extension cord is necessary.
We have had great experience with
Cable Matters 10m USB3.0 extension cable
. There was previously a 5m version available that also works great. This cable is powered at the remote end (camera), but it seems to work well even unpowered with the Logictech C920 camera; presumably because it's just a very high-quality cable. Note that the Cable Matters cable will also extend a Kinect v2 camera.
Occasionally we've seen this extension cord + camera combination get into a state where it won't start. This can be solved by turning off & on again the power supply to the cable (it's plugged into the camera end of the cable)

Q. Can I use my phone as a camera?

Yes! There's a protocol called
NDI
which allows high-quality video to be transmitted over your local network. Here's how to set it up:
Install the NDI HX camera app on your phone (it's not free, but it's less expensive than a webcam)

Install the NDI Tools software on your PC

Then each time you want to use it:
Run the NDI HX camera app on your phone
Run the NDI Tools software on your PC and choose the "Webcam Input" option:

You should now have an NDI app in the system tray (bottom-right of your Windows desktop). Right-click it and make sure there's a tick next to the name of your phone:


You can now add it to Velogic Studio by clicking the "Add camera" button, and use it as if it's a normal webcam.

Note that we can't offer you support in configuring your network for NDI. If it doesn't "just work" for you, please refer to
General NDI Troubleshooting
and
NDI Camera Application Troubleshooting
. You should use the NDI Studio Monitor Tool to test the feed from your phone; if it can see video from the phone camera, then Velogic Studio should be able to.
Q. Can I save videos in MP4 format?

Yes. On Step 1: Configuration, click the Settings button, then choose the "video format" tab.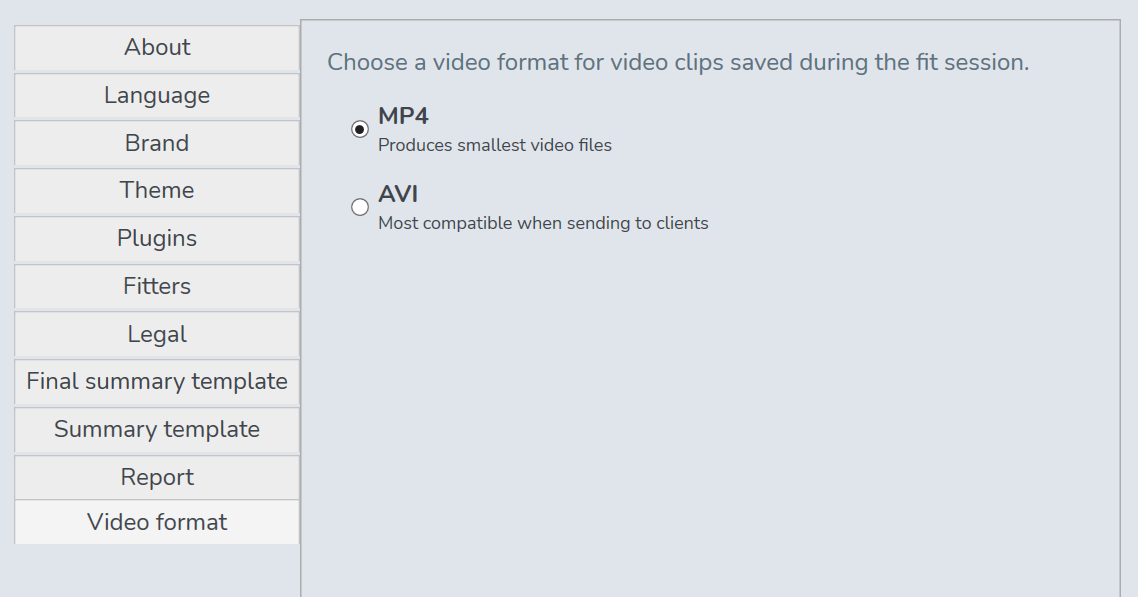 MP4 produces smaller files, but uses your computer's CPU and GPU resources to do so.

AVI produces larger files, so uses more disk resources - but is less taxing on your CPU and GPU resources.

If your computer has problematic graphics drivers, MP4 encoding may cause errors for Velogic Studio. For that reason, AVI is the default selection. If you have a good modern computer with good graphics capability, we recommend that you switch to MP4.

Troubleshooting webcams

If the camera isn't available to add in Velogic Studio

The first step in troubleshooting a webcam in Velogic Studio is to make sure that it works well with Windows generally, and with other apps.

Windows 11 has a nicer camera-management interface than Windows 10. In Windows 11, you can use the "Manage cameras" interface: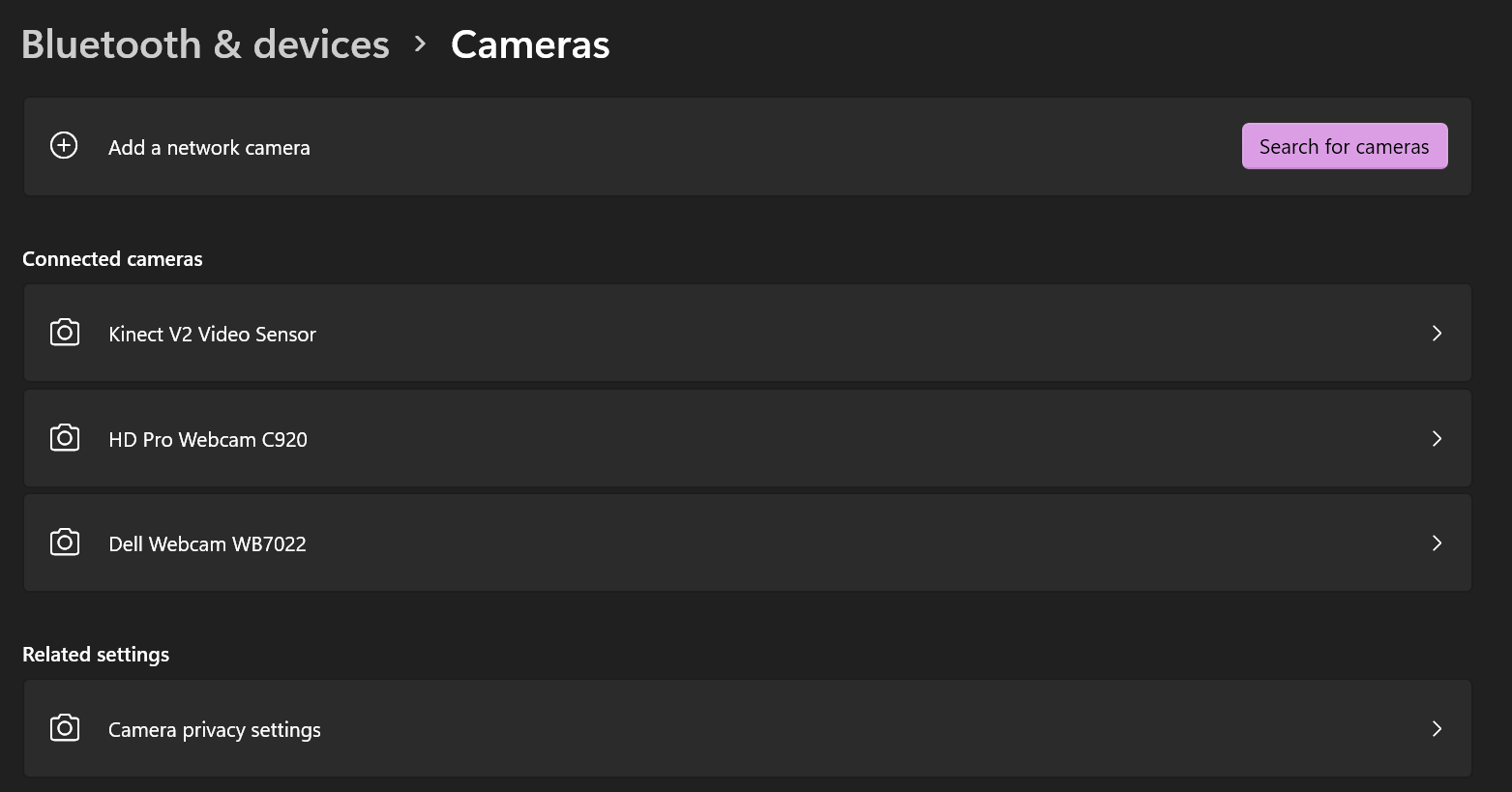 (Note that although the Kinect V2 can be used as a webcam by Windows, Velogic Studio will instead use it to detect joints and for measurement, so it can't be used as a normal webcam).

If you click on one of the cameras, you can adjust the settings for the camera: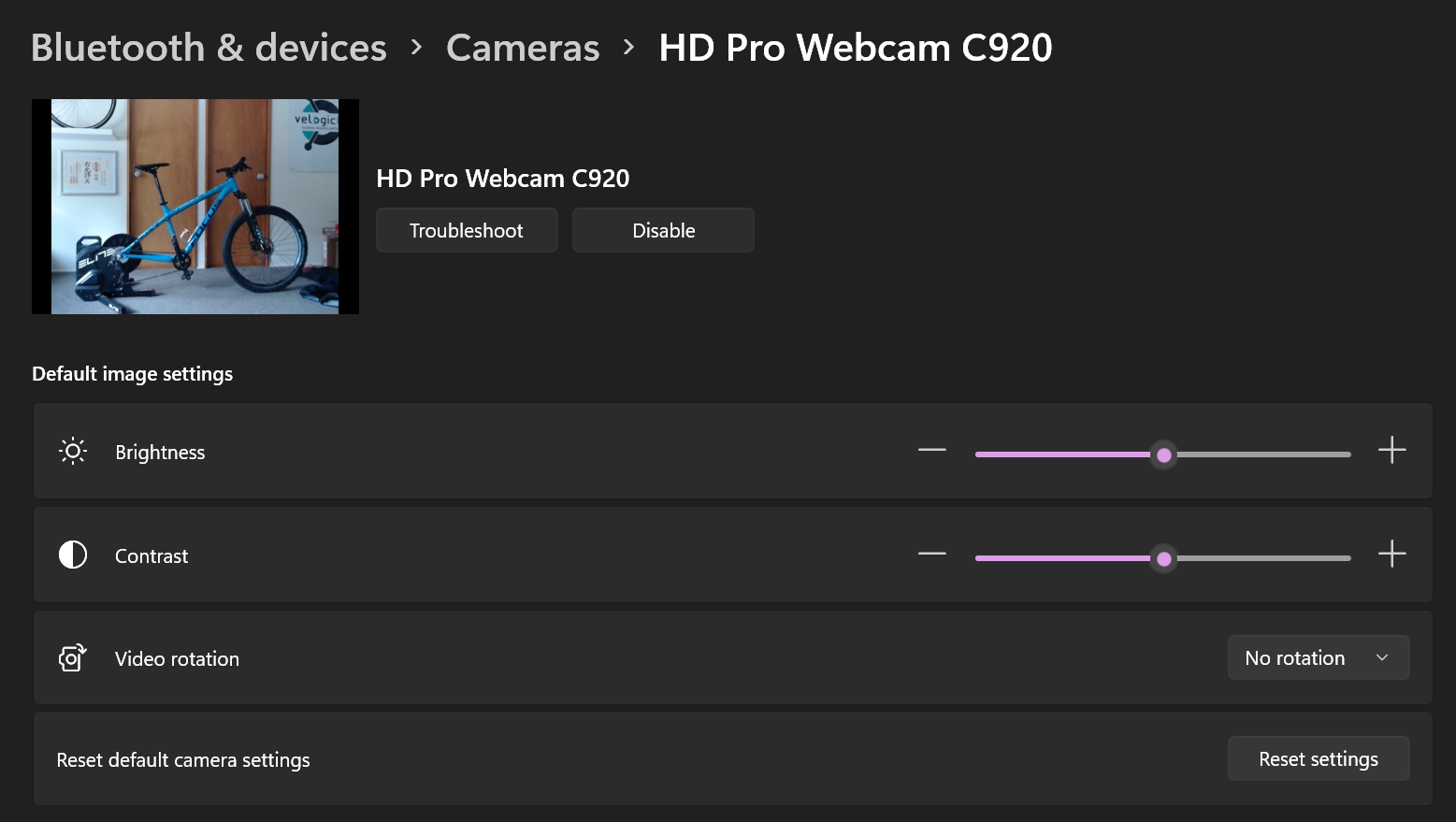 If you can see the preview image in this settings page, then you should be able to add the camera in Velogic Studio.

If you can add the camera in Velogic Studio, but it doesn't start

If you see this: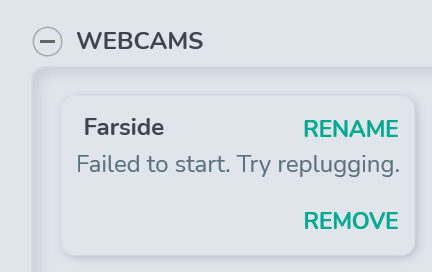 ... that means that Velogic Studio can see the camera (i.e. Windows is reporting that the camera is connected), but can't start it.

The most likely cause is that another app (e.g. Zoom) has exclusive control of the camera. Velogic Studio also demands exclusive control of the camera, so you can't use it with Zoom at the same time as Velogic Studio. You can try to close the other app, or restart your computer.

You can also try to unplug and replug the camera.

Note that some cameras sometimes get into a state where they are on, but no apps are using them. This is known to happen with the Dell WB7022 camera, and can be fixed by unplugging and replugging the camera.